Amar Ujala Spin Wheel Contest: Win Rs. 100 Amazon Voucher
Hello Dealsnloot Readers, Amar Ujala Spin wheel: We provide you daily Free Samples in India & Free Vouchers. Today, Get ready to enjoy an exciting journey of surprises and rewards with Amar Ujala's Spin the Wheel Contest! Spin the wheel and stand a chance to win amazing prizes, including a Free Rs.100 Amazon Voucher, premium subscriptions, and exclusive discounts. It's time to spin, win, and win unexpected rewards! Amar Ujala is a Hindi-language daily newspaper published in India which was founded in 1948. It has 22 editions in six states and two union territories covering 180 districts. It has a circulation of around two million copies. Spin The Wheel Hindi News, Spin The Wheel News In Hindi – Amarujala.com. Amar Ujala Spin Wheel Get Free ₹100 Amazon Voucher & More.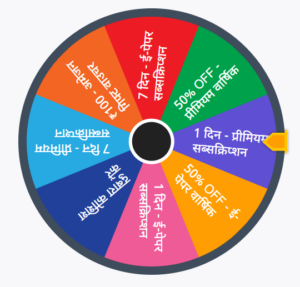 Amar Ujala Spin Wheel Rewards:
Free Rs.100 Amazon Voucher: Get Rs.100 to spend on your favorite products, books, or gadgets, on Amazon App.
7-Day Premium Subscription: Get news and updates with a 7-day premium subscription to Amar Ujala. Stay informed and stay ahead!
7-Day ePaper Subscription: Enjoy the convenience of digital reading with a 7-day ePaper subscription.
50% Off on Yearly Premium Plan: Upgrade your news experience with a yearly premium plan at an 50% discount. Stay informed throughout the year.
1-Day Premium Subscription: If you're looking for a quick news fix, the 1-day premium subscription is perfect. Stay updated for a day with the latest news and stories.
1-Day ePaper Subscription: Get access to a digital copy of the newspaper for a day.
50% Off Yearly ePaper Subscription: For those who prefer digital reading, here's an exclusive offer—a 50%bbbb discount on a yearly ePaper subscription.
Better Luck Next Time: Sometimes, luck may not be on your side, but there's always another spin waiting for you. Don't lose hope and keep spinning for your chance to win!
"व्हील घुमाएं" बटन क्लिक कर गेम स्टार्ट करेंं।
"उपहार प्राप्त करें" पर क्लिक करके जीते गए पुरस्कार पर दावा करें।
यदि पहले से लॉग-इन नहीं हैं तो अपने नाम, ई-मेल और मोबाइल नंबर के साथ लॉग इन करें।
सभी आवश्यक विवरण सफलतापूर्वक दर्ज करने के बाद अपने पुरस्कार का दावा करें।
ई-पेपर और AU प्रीमियम की वार्षिक योजना पर 50% छूट जैसे पुरस्कारों के लिए आपको खरीदारी करने के लिए मेंबरशिप पेज पर री-डायरेक्ट किया जाएगा और आपने जो डिस्काउंट कूपन जीता है, उसका उपयोग करके आप पुरस्कार का दावा कर सकते हैं। इनाम के लिए ₹100 का अमेज़न वाउचर आपको अपने इनबॉक्स में ई-मेल द्वारा उपहार वाउचर प्राप्त होगा
आप अपना फीडबैक 

[email protected]

 पर हमें भेज सकते हैं।
Steps to Participate
The steps to participate in this contest are very simple. Follow the steps below to participate:
1- First of all open this link-
2- Now you will see a wheel below which there is a button with click the wheel to win
3- Click on that button.
4- Wait for a few seconds.
5- You'll receive your winning results immediately.
6 – If you haven't won anything yet, try again after a while.
FAQs
What is Amar Ujala Spin Wheel Rewards?
Amar Ujala Spin Wheel Rewards is a promotional contest that allows participants to spin a digital wheel for a chance to win various rewards, including Amazon vouchers and subscriptions.
How can I participate in the Spin Wheel contest?
You can participate by visiting the Amar Ujala offer page and following the prompt to spin the wheel.
Is there any cost associated with spinning the wheel?
No, spinning the wheel is completely free, and you stand a chance to win without any participation fee.
What kind of rewards can I win?
Rewards range from free Amazon vouchers to premium subscriptions and discounted plans on Amar Ujala's services.
How will I know if I've won a reward?
The prize will be displayed on your screen immediately after the wheel stops spinning.
What should I do after winning a prize?
Enter your email and phone number to claim your reward. It will be sent to you via the provided contact information.
How long does it take to receive the reward?
Delivery times can vary, but typically rewards are dispatched shortly after the claim is processed.
Can I spin the wheel more than once?
The terms of the contest will dictate the number of times you can participate. Usually, there is a limit to ensure fairness.
What if I land on 'Better Luck Next Time'?
This indicates you didn't win a prize this turn, but you may have the opportunity to spin again based on the contest rules.
Are the subscriptions auto-renewable?
The terms of the subscription won after the spin will determine whether it auto-renews or not. Typically, auto-renewal requires explicit consent.
Conclusion
Amar Ujala's Spin Wheel Rewards not only adds a layer of excitement to your day but also presents a unique way to engage with content and enjoy additional benefits. With the ease of participation and the allure of instant rewards, the contest is a testament to Amar Ujala's commitment to delivering value to their audience. Why wait? Try your luck today, and make the most of what Amar Ujala has to offer. Good luck, and happy spinning!
Unlock Exclusive Online Shopping Discounts & Amazing Earning Opportunities!  Join Our WhatsApp Community Now – Tap Here
Join Our Telegram Channel For Instant Loot Alerts – Click Here
Amar Ujala Spin Wheel Get Free Amazon Voucher, Subscription & more from Spin Wheel