PUER Floor Cleaner For FREE | 500 ml
Hello Dealsnloot Readers, Freebies, Free Sample in India –One more free sample is yours to enjoy, gentlemen. Here it is. Get a Free Bottle of PUER Floor Cleaner. You will solely be responsible for paying the costs associated with delivery. PUER Floor Cleaner is unlike any other floor cleaner on the market because it is made of water and contains only all-natural components. As a result, it is not only an efficient floor cleaner, but it is also fully risk-free. Use PUER Floor Cleaner to maintain not only a clean but also a safe environment on your floors. Acidic floor cleaners that are heavy on chemicals tend to be abrasive, and prolonged use of these cleaners might potentially harm the floor surface.
Free Order Trick – You can select CRED Pay Option for Paying for Delivering Charges to Get Up To 100% Cashback Offer.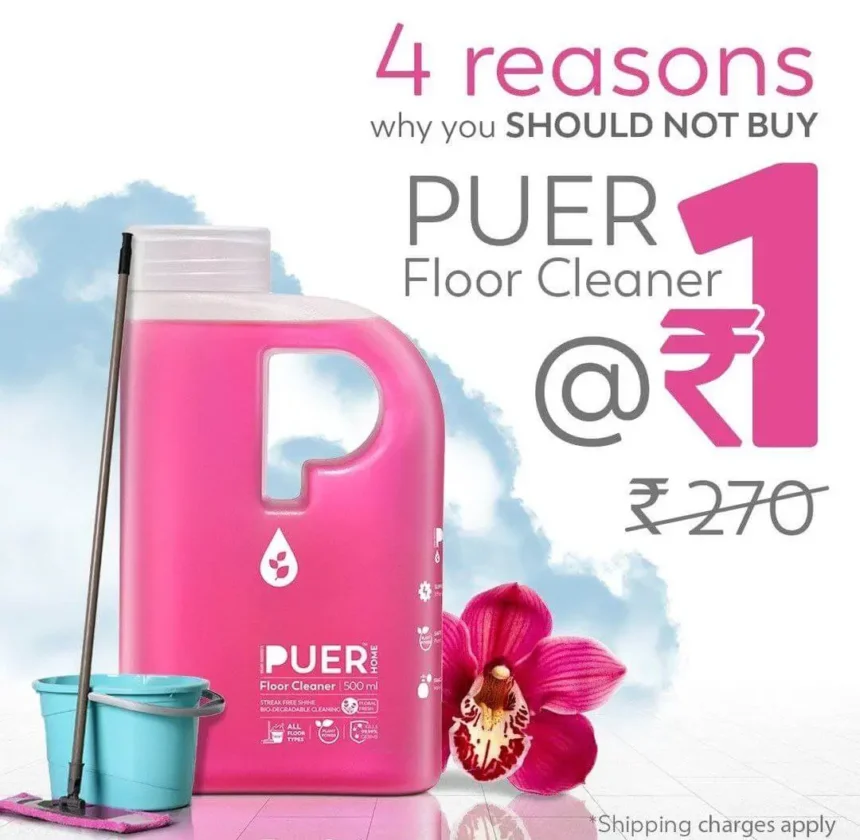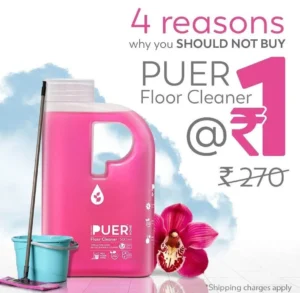 Details About PUER Floor Cleaner :
Simple Elimination of the Dirt
Rapid Rate of Evaporation
Reduces the amount of work required to remove stains
Shine Without Any Streaks
Surfaces Can Be Cleaned in One Step
Does Not Leave Any Sign of Dirt or Swipe Behind
Only a Delightful Scent Remains After Use
characteristics that eliminate 99% of germs, clean without streaks, dry quickly, and are appropriate for use on all floors
Biodegradable and mineral-based cleaning agents, as well as active ingredients certified by Ecocert and COSMOS
Pleasantly fragrant and fresh flowers
Must read – Exclusive Offer : Get ₹1,000+ Paytm Cash When You Apply For Any Bank Credit Card Via Dealsnloot
How To Get

PUER Floor Cleaner For FREE :
1. To begin, click on the link that has been provided to you to get a free sample of PUER's floor cleaner.
2. You will see the price of one pound there. Simply use the "Add to Cart" button to continue.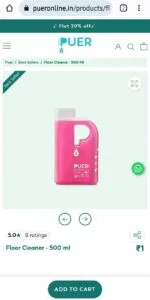 The promotional code for PUER Floor Cleaner is: FCLN500MALT1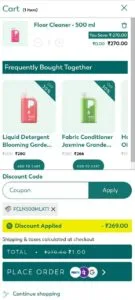 4. Enter your shipping details after logging in or signing up with the help of your mobile number.
5. The cost of shipping will be a flat rate of 99 rupees. However, if you pay for the delivery charges using the CRED Pay option, you will be eligible for a cashback offer of up to 100% of the amount paid.
6. Give us your delivery address so we can send you the free sample, and keep in mind that there will be a charge of 99 yen for the delivery service.
7. Once your money has been processed successfully, a confirmation email will be sent to you.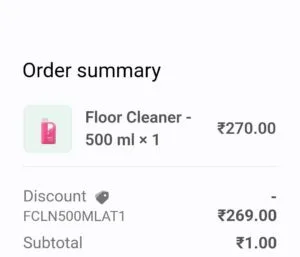 Conclusion:
Dive into the eco-friendly embrace of PUER Floor Cleaner and experience a pristine, hazard-free cleanliness. This is your gateway to not only an impeccably clean home but also to peace of mind, knowing that your cleaning routine is safe for your family and kind to the planet. Claim your free sample today and step into a world where cleanliness coexists with nature's serenity.
FAQs:
What surfaces can I use PUER Floor Cleaner on?

PUER Floor Cleaner is versatile and safe for use on all types of floor surfaces, including hardwood, tile, and laminate.

Is there a limit to how many free samples I can order?

The offer is limited to one free sample per account or address to allow as many customers as possible to try the product.

Will PUER Floor Cleaner leave any harmful residues on my floors?

No, PUER Floor Cleaner is designed to evaporate quickly and leave your floors with a streak-free shine without any harmful residues.

How long does the cleaning effect of PUER Floor Cleaner last?

The longevity of the cleanliness depends on foot traffic and usage, but PUER is formulated for effective, long-lasting cleanliness.

Can PUER Floor Cleaner be used around pets and children?

Yes, due to its natural ingredients, PUER Floor Cleaner is safe for use around pets and children when used as directed.

Does the PUER Floor Cleaner free sample come in different fragrances?

Currently, the free sample is available in a pleasant floral fresh scent that has been well-received by users.

How does PUER Floor Cleaner contribute to environmental sustainability?

PUER Floor Cleaner uses biodegradable, mineral-based cleaning agents and is certified by Ecocert and COSMOS, making it an environmentally responsible choice.

How do I apply the coupon code for the free PUER Floor Cleaner sample?

During checkout, enter the coupon code 'FCLN500MALT1' when prompted to avail your free sample.

What should I do if I experience any issues while ordering my free sample?

If you encounter any problems, you should contact the customer service team provided on the PUER website for assistance.

Are there any hidden costs when ordering the free sample of PUER Floor Cleaner?

The sample itself is free; you only have to pay a shipping charge of ₹99, which can potentially be offset with a cashback offer if you use CRED Pay for the transaction.
Unlock Exclusive Online Shopping Discounts & Amazing Earning Opportunities!  Join Our WhatsApp Community Now – Tap Here
Join Our Telegram Channel For Instant Loot Alerts – Click Here
PUER Floor Cleaner Free Sample