Eureka Free Sample – Get Free Sample Of "Aloe Body + Triphala + Healthup Capsule" 
Hello Dealsnloot Readers, Freebies, Free Sample in India –This fantastic and well-known online pharmacy will provide you with free samples of aloe body, triphala, and capsules if you make a purchase from them. Therefore, if you follow the steps given, you can get your free sample right now! Discover the world of Ayurveda with Eureka's exclusive offer of free health capsule samples. This comprehensive guide delves into the benefits of Ayush Kwath, Tri Aloe Body Fine, and Triphala capsules, providing a step-by-step process to avail these free samples. Understand the terms, embrace Ayurvedic wisdom, and transform your health journey today.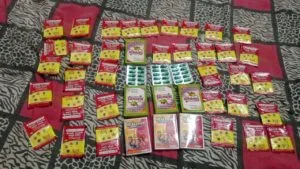 Free Samples Available Right Now :-
FREE Trial Version of Ayush Kwath 5 sachets of 6 grams each
TRI ALOE BODY FINE. TRI ALOE FREE Capsule Sample Pack of 30 Capsules
FREE Capsule Sample Offer (36 Units Available)
FREE TRIAL of Triphala Capsules (thirty capsules)
Must Read – Jio Diwali Dhamaka : Get Instant 100MB to 6GB Free Jio Data For All
Steps To Get Eureka Free Sample – Health Ayurveda Capsules :-
1. First of All Open Given Registration Link in Default Browser. :
Click Here To Order Free Sample
2. Move to Bottom of the Page and Find Rs.0 Of Products.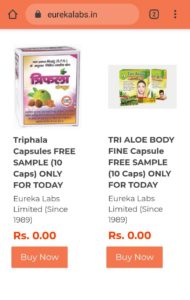 3. Add All 4 Rs.0 Products in your Cart.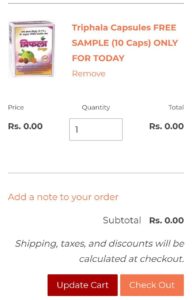 4. Tap on Check Out and Go Ahead and Enter your Mobile Number and Address.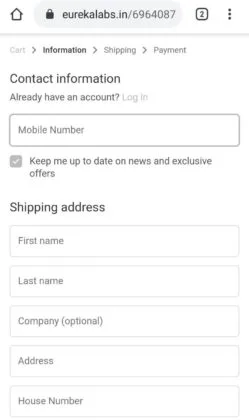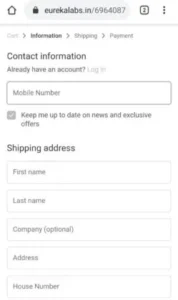 5. Continue to Payment.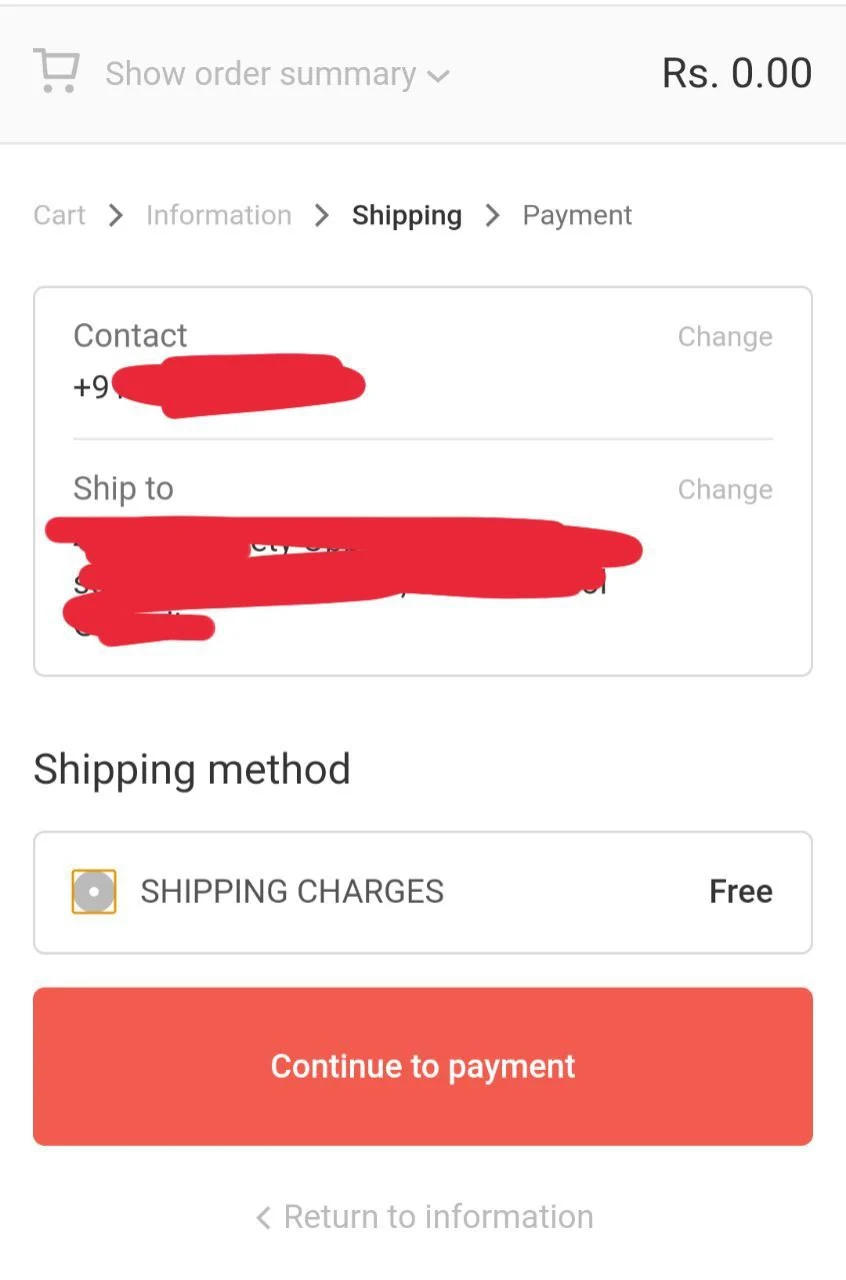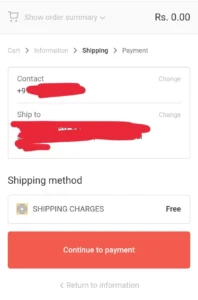 6. [Update – Shipping is Free right Now] There is ₹30 Shipping Charges Now. Pay "₹30" and Complete Order.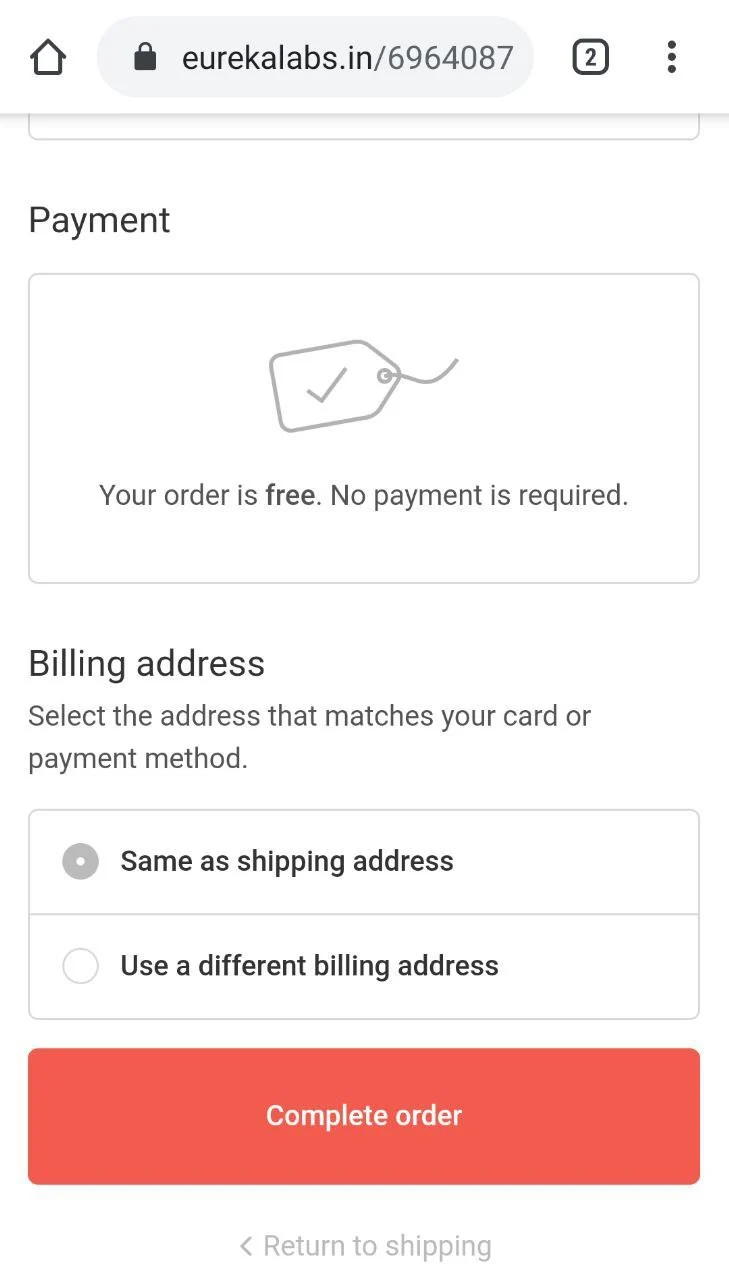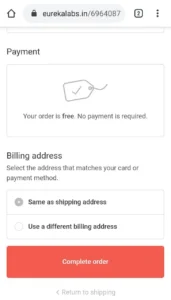 7. You will Get the Confirmation Message.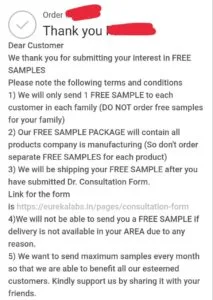 PROOF :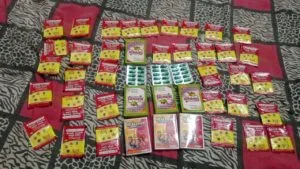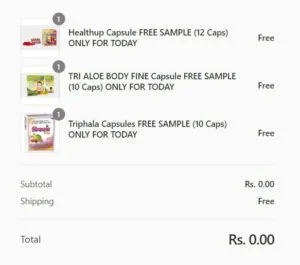 Terms & Conditions :
1) We will only send 1 FREE SAMPLE to each customer in each family (DO NOT order free samples for your family)
2) Our FREE SAMPLE PACKAGE will contain all products company is manufacturing (So don't order separate FREE SAMPLES for each product)
3) We will be shipping your FREE SAMPLE after you have submitted Dr. Consultation Form.
4)We will not be able to send you a FREE SAMPLE if delivery is not available in your AREA due to any reason.
5) We want to send maximum samples every month so that we are able to benefit all our esteemed customers. Kindly support us by sharing it with your friends.
Conclusion
In conclusion, Eureka's free Ayurveda capsule offer presents an exciting opportunity for individuals to explore the benefits of Ayurvedic medicine. The free samples of Ayush Kwath, Tri Aloe Body Fine, and Triphala Capsules, available with free shipping for a limited time, offer a glimpse into the world of Ayurveda and its potential impact on health and wellness.
FAQs with Answers :-
Are the Ayurveda capsules suitable for everyone?

Ayurveda capsules are generally safe for most individuals, but it's advisable to consult a healthcare professional before starting any new supplement, especially if you have pre-existing health conditions or are pregnant.

How long does it take to see results from these capsules?

The time to see results can vary depending on the individual's body type and health condition. Generally, it may take a few weeks to notice significant changes.

Can I combine these Ayurveda capsules with other medications?

It's important to consult with a healthcare provider before combining these capsules with other medications to avoid any potential interactions.

Are there any age restrictions for using these capsules?

While Ayurveda capsules are often safe for all ages, it is recommended to consult with a healthcare professional for children, seniors, or those with specific health issues.

How can I maximize the benefits of these Ayurveda capsules?

To maximize benefits, follow a balanced diet, maintain a consistent routine, stay hydrated, and follow the dosage instructions. Combining these practices with regular exercise and stress management techniques can enhance the effectiveness of the capsules.
Unlock Exclusive Online Shopping Discounts & Amazing Earning Opportunities!  Join Our WhatsApp Community Now – Tap Here
Join Our Telegram Channel For Instant Loot Alerts – Click Here
Eureka Labs – Health Up Ayurveda Capsules (36 Pack) For FREE